The bonds dogs form with children go far beyond what many may expect from a pet. Young ones see their canine companions as playmates and often as trusted confidants and guardians who provide unconditional love. Stories of the depths these cross-species friendships reach continue inspiring many.
One such tale originated in Louisiana, where a seven-year-old boy demonstrated compassion, touching hearts worldwide. After adopting a Pitbull mix from a shelter who'd known hardship, the child sensed unease lingering from this pup's history. Desiring to provide comfort, he consoled the dog through an act epitomizing the healing power between youths and man's best friends.
Rather than ignore lingering shadows in another's eyes, this boy recognized how kindness can lift even the most scarred spirits. By giving sympathy instead of passing judgment on past pains, he showed understanding nurtures healing in all beings. While we cannot undo what wounds others have endured, each small gesture reminding one of their worth reminds us of humanity's capacity for good. Such stories renew hope that through open-heartedness, even those dealing with secret devils may find a haven and repay care with devoted affection.
He wanted to ensure the dog understood that everything would be fine from now on. But the way he did it melted the hearts of millions of people around the world!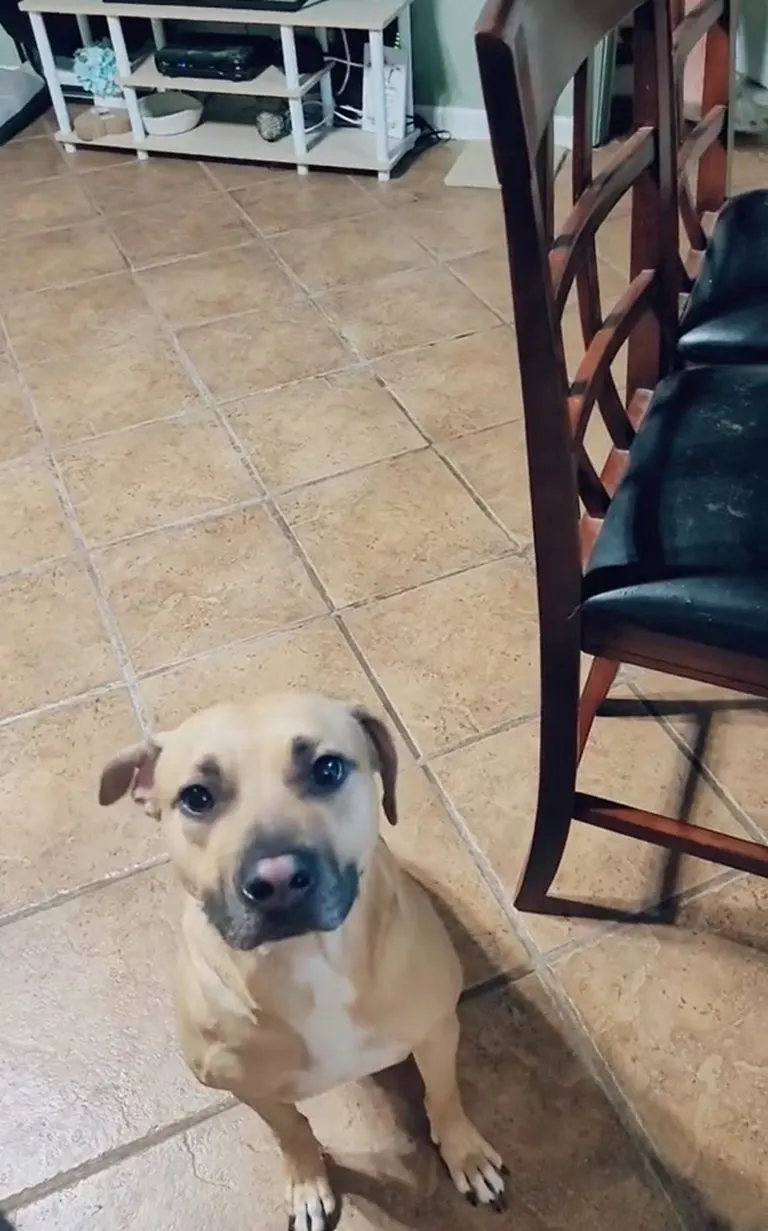 Source: @the_crazyzoo
Before he even got the chance to be adopted, Neil, the Pittie mix, was a victim of animal abuse. This blonde boi was admitted to Companion Animal Alliance, from Baton Rouge, Louisiana, with severe cigarette burns.
"He was also the only dog in the shelter not barking," wrote Neil's new owner.
Back in the shelter, Neil was a traumatized dog that needed some time to adapt to the new circumstances, but his life soon took an unexpected turn!
Source: @the_crazyzoo
The boy and his mom arrived at the shelter to look for a dog and saw Neil. Despite his rough past, this sweet Pittie mix wasn't displaying any sign of aggressiveness, and he was so gentle with the woman's son.
Prior to his adoption, CAA offered exclusive adoptions for $15 in an attempt to promote animal rescues. According to his mom, the boy, who desperately wanted a dog, saved up his pocket money and paid for the dog's adoption fee.
The three of them went home, and Neil started a new life, but what happened upon their arrival melted everyone's heart!
Heartwarming Moment Caught On Camera
Source: @the_crazyzoo
The boy was very sad to learn about Neil's unfortunate past, and he did everything he could to make the dog feel better! One day, he knelt before Neil, curled up on a couch and seemed down, and reassured him that he was so loved.
"We love you so much," said the boy.
Then, he gave him the cutest pat on the back, and Neil reciprocated with a tail wag.
Source: @the_crazyzoo
This sweet moment was recorded by Neil's mom, who posted it on her TikTok account. In no time, the video went viral and got millions of viewers amazed by the boy's compassion.
A few weeks later, Neil completely came out of his shell, and he embraced his new life and his new family with paws wide open!
The boy soon became his favorite person in the world. The two formed an amazing bond, and now they embark on endless adventures together every day!
Once a traumatized doggo that wasn't even given the chance to be a dog, Neil's now the happiest canine in the world!
@the_crazyzoo

My son wanted a dog of his own and the shelter was having $15 adoptions. So off to the animal shelter we went! This sweet boy was seized from his owners because of abuse. He had cigarette burn scars on him and was afraid of loud noises. He was also the only dog in the shelter not barking. We took him out in the dog park area to get acquainted. I wanted to make sure he didn't have any aggression because of the abuse. He was so well behaved! My son fell in love and we brought him home! Pits get such a bad response and he's by far the sweetest and most cuddly one of them all! My son wanted to reassure him that he would be loved and kept safe and it melts my heart ❤️ #dogsoftiktok #dogsoftiktokviral #dogstory #pitbull #pitbullsoftiktok #pitbulllove #pitbullterrier #animalsoftiktok #petsoftiktok #petstory #rescuedog #adoptdontshop